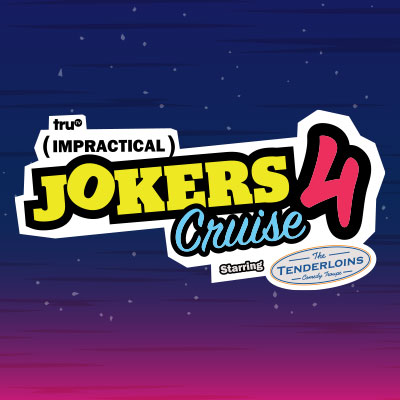 Onboard Filming
Friday, January 17, 2020
A film crew will be on board capturing the experience of shows, activities, fans, and general hilarity of the cruise throughout our four days together at sea. Not only will you get to be a part of this amazing event in person, but you may also be a part of a 30 minute Impractical Jokers "Special" episode airing on truTV some time this summer!

What does this mean for you?
The film crew may ask you to sign a release form if they record you in non-crowd scenarios. If you participate in an interview, you will sign a release form as well.
Signs will be posted outside of venues when filming is in progress or expected to occur during that show or activity.
You're going to be famous! (JK, but you can still brag to your friends that you may be on TV…)
Per our Photo & Video Policy, no filming, audio recording, or streaming will be permitted during performances by The Tenderloins or other comedians.
Feel free to contact Sixthman with any questions prior to sailing.

We can't wait to share our impractical adventure with the world when we're back on dry land and can relive the fun!