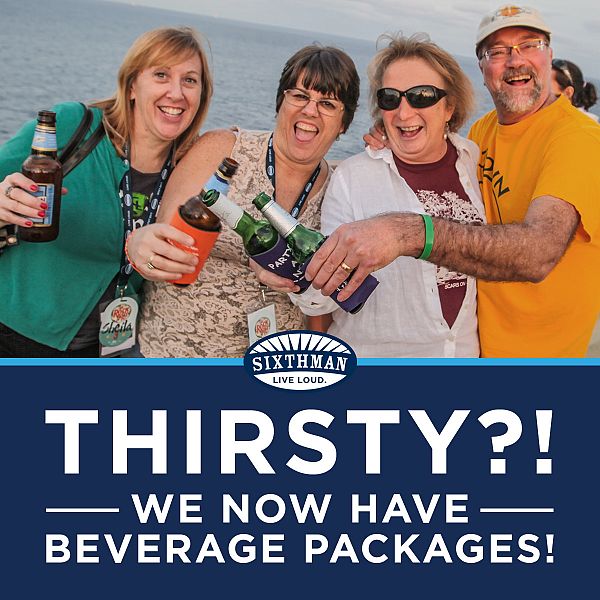 Beverage Packages Now Available!
Wednesday, December 18, 2019
We're pleased to offer a variety of options for your drinking pleasure while sailing on Impractical Jokers Cruise 4! Keep reading to choose the option that's best for you!
OPTION 1: BEVERAGE PACKAGES
Guests sailing on Impractical Jokers Cruise 4 can enjoy a variety of beverage packages. If you purchase the Premium Beverage Package or Corks & Caps package prior to sailing, you can save as much as 25% off of the price you would pay on board! If you're interested, these thirst-quenching packages are now available for purchase through your Sixthman account.
How do I purchase?
First, refresh yourself on all the details HERE
When you're ready to purchase, sign in to your Sixthman account HERE.
Select your "Impractical Jokers Cruise 4" reservation and scroll down to "Additional Packages".
From there, you may add the Premium Beverage Package or Corks and Caps Wine and Beer Package for each guest in your stateroom, OR you may individually add the Soda Program.
Guests have until end of day Saturday, February 1st to pre-purchase beverage packages at our special discounted rates. If you miss the deadline, you can still purchase the Premium Beverage Package, Corks and Caps Wine and Beer Package, or Soda Program on board at the normal rate offered by Norwegian.

All of these updates are unique to Sixthman charters, so we ask that you have patience with onboard wait staff as we are deviating from standard cruise operation. Be sure to check your receipts and let your bartender know in real time if it needs to be corrected. As always, our staff will be available to assist with any issues or questions.
OPTION 2: BOTTLE SERVICE
Pre-order bottles of liquor, complete with mixers, to be delivered to your cabin from Norwegian's Gifts & More program (not advertised but available if you call). Bottles can also be purchased on board; however, mixers are not included so we suggest purchasing prior to sailing.

OPTION 3: BRING YOUR OWN WINE
Guests may bring bottles of wine and champagne on board. A corkage fee will be charged per bottle in the terminal. Visit this page for full details.

OPTION 4: A LA CARTE BEVERAGES
Enjoy a wide variety of cocktails, spirits, beer (bottled, draft, or can), wine by the glass or bottle, soda, juice, energy drinks, and Starbucks coffee purchased in any of Norwegian Pearl bars or lounges, Garden Cafe, main dining rooms, and specialty restaurants.